What is a Fish buffet promotion?
Fish Buffet is a loyalty program at GGPoker. Fish Buffet consists of 8 levels, which are divided into 25 ranks in total. By earning Fish Points, you secure up to 60% Rakeback.
The amount of your Rakeback depends on your Fish Buffet level and rank. You must earn the required level of Fish Points within a given time limit to unlock the next levels. Upon unlocking a level, you can spin a wheel to win various cash rewards. Below you can see the Fish Buffet table, which shows the requirements for obtaining a certain level and rank.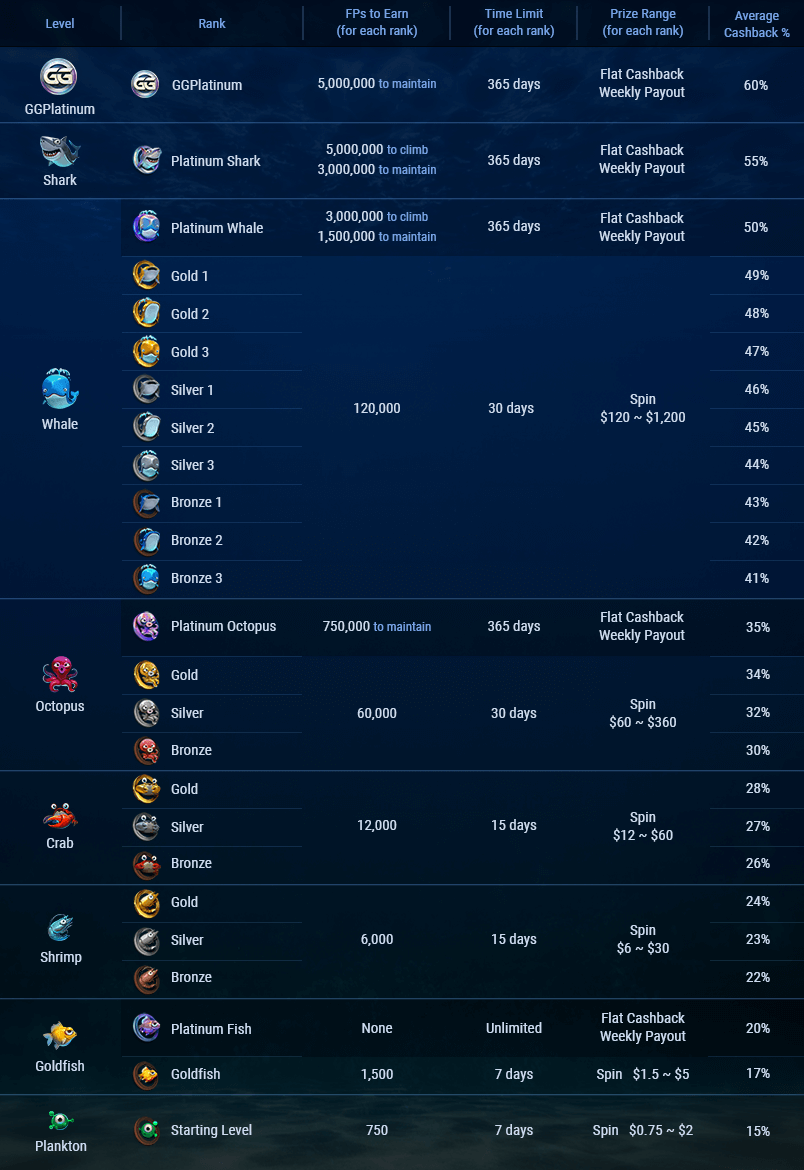 How do I collect Fish Points?
On average, you will be rewarded 100 FP for every $1 paid in rake and fees. This value may vary based on a variety of factors, such as but not limited to, game type or tournament played, your behaviour at tables, and deposit history.
When will I receive the Rakeback?
If you have a platinum rank of any level, you will receive a fixed Rakeback every Monday.
If you are at any other rank, the option to spin the wheel will be available after moving to the next level. After you span the wheel, Rakeback will be credited to your account.
Platinum Ranks offer weekly fixed cashback - no more spins and time limits. Platinum Ranks are maintained for a year and require a certain points target for renewal.
There are five Platinum Ranks starting at Platinum Fish to GGPlatinum:
Platinum Fish
Platinum Octopus
Platinum Whale
Platinum Shark
GGPlatinum
How does the Prize Wheel works?
In Fish Buffet, each of the 8 levels corresponds to a line with a payout range: from $6 to $30 for a shrimp or from $120 to $1,200 for a whale. The randomly distributed rakeback percentage range is a legacy of the original Fish Buffet program. The key role belongs to the wheel, the scrolling of which determines your rakeback.
What happens if I fail to satisfy the FP requirements in the given time?
If the required FP amount is not met within the given time limit, you will get demoted to the previous level. Also, your accumulated FP will expire and you will receive 10% cashback of the expired FP amount.
Examples: 30 FP = $0.03, 300 FP = $0.30 3,000 FP = $3.00
What happens if I move up a rank within a level - how does that affect the time frame?
If you successfully ladder up a rank within a level you will receive the full amount of time to move up to the next.
Example: You move from Bronze Shrimp to Silver Shrimp you will have 15 days to move from Silver Shrimp to Gold Shrimp.
Can I move between Fish Buffet and Platinum Rank?
You can switch to a Platinum Rank of a lower level/rank. All Octopus, Crab, and Shrimp levels can switch to Platinum Fish. All Whales can switch to Platinum Octopus.
Can I move up Platinum Ranks?
Only players on Platinum Whale can climb to Platinum Shark or GGPlatinum by meeting the FP requirements.
Examples:
A Platinum Whale must generate 3,000,000 FP to climb to Platinum Shark
A Platinum Shark must generate 5,000,000 FP to climb to GGPlatinum
Platinum Ranks below cannot be climbed. The only way to climb Platinum Ranks is to climb via the Fish Buffet.


Example:
A Platinum Octopus that earns 3,000,000 FP does not become a Platinum Whale.
To become a Platinum Whale, the player must leave Platinum Octopus, starting on Bronze 3 Whale, and must climb the Fish Buffet ladder from Bronze 3 and complete Gold Whale 1 before they can then switch to Platinum Whale
What happens if I fail to collect the required Fish Points for my Platinum Rank?
If you fail to collect the required points in one year, your rank will drop to the next lowest Platinum Rank.

Example:
A Platinum Whale must earn 1,500,000 FP in a year to continue at this level. A player that fails to do so will move to the Platinum level below, which is Platinum Octopus. They will keep this status for a year, or alternatively can leave Platinum and try to reach Platinum Whale again by climbing the Fish Buffet.
Can I switch from Platinum Rank to Fish Buffet?
You can always switch back to regular Fish Buffet to try and reach a higher level. Any remaining Fish Points will be exchanged at the Platinum Rank level upon making the move. It may take up to 5 minutes before these rewards are placed in your account balance.
Example: A Platinum Fish will start at Bronze Shrimp. The player had 10,000 FP at the time of the switch. The FP will be exchanged for $20 in cash and the player will start at Bronze Shrimp with 0 FP.
Note: You will NOT be able to switch back to Platinum Rank for a while, equivalent to the time limit of the new Bronze rank. (e.g. If you switch from Platinum Fish to Bronze Shrimp, you will not be able to return to Platinum Fish for 15 days.)
Note 2: For days when there is scheduled downtime of the service, an extra 24 hours is added to both Fish Buffet levels and Platinum Rank levels to allow players a fair time to complete them.
For more information, please refer to the official GGPoker Fish Buffet FAQ: https://help.ggpoker.com/category/10049-fish-buffet-platinum-ranks
For more information, please refer to the official GGPoker Fish Buffet FAQ: https://help.ggpoker.com/category/10049-fish-buffet-platinum-ranks
0
0
Was this article helpful?
0 out of 0 found this helpful