CASH OUT is an option that allows you to pay out your bet before the result of the event or events is known.
What types of CASH OUT are available to me?
Full CASH OUT - allows you to withdraw the entire possible winnings of the bet.
Partial CASH OUT - allows you to reduce the amount of the bet and thereby the amount of risk, or withdraw the profit earned at the time of the cashout.
When is the CASH OUT option available?
This option is only available for bets that have not yet been settled. CASH OUT is not available for all bets. This option is offered only for certain bets at the discretion of OlyBet.
If the CASH OUT is available, you will see the option to make a payout in the Open Bets section.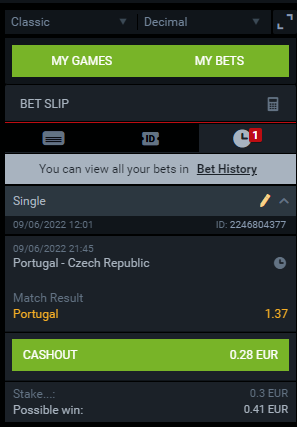 If the option is available, you will see a green CASH OUT button in the Open Bets section. By clicking on it, you will see the following window: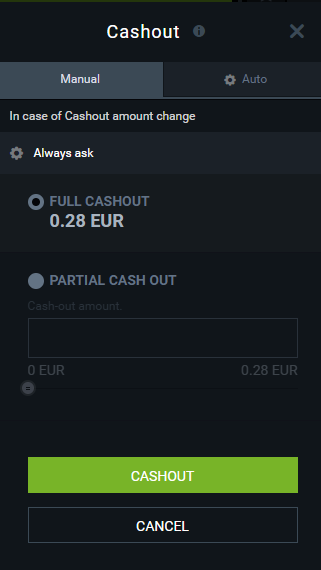 Here you can choose to cashout the entire amount or make a partial cashout. After selecting the option that suits you best, you will need to click on "CASH OUT", after which the indicated funds will be transferred to your OlyBet balance.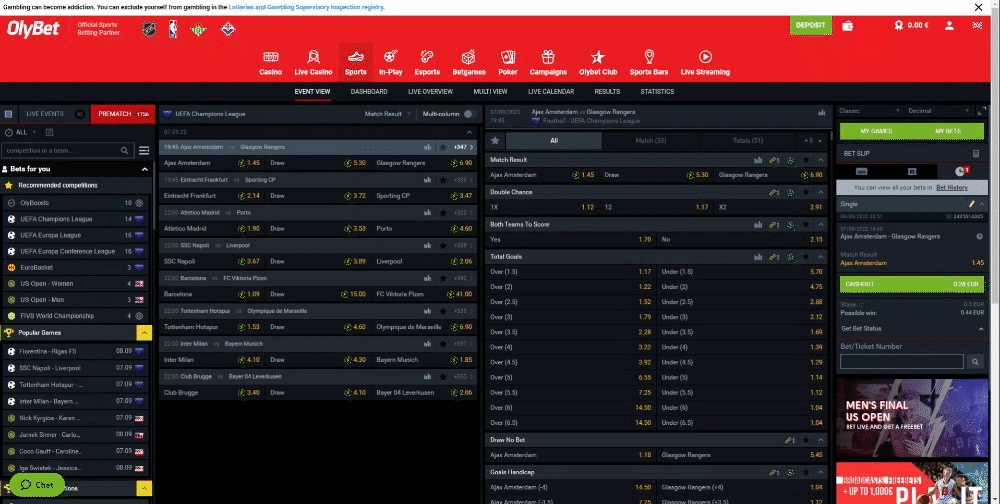 What determines the amount of my CASH OUT?
The cashed out amount depends on the total odds of your bet. It can be calculated both automatically and individually, according to a certain algorithm. The amount of the payout depends on the bet value and the probability of outcomes of events in the bet.
Why can't I use the CASH OUT?
OlyBet cannot guarantee that the CASH OUT option will always be available. Cash-out is not available in the following cases:
It may happen that in live betting, the CASH OUT option is offered, but right now this option is suspended. This can happen for various reasons, such as a free kick, a corner kick, a goal, etc. This means that it will be quite difficult to cash out on a live bet containing multiple selections due to constantly changing results.
During a change of odds, or if betting is closed.
If the CASH OUT function is not offered on pre-match bets, and it is not available in the live section at the beginning of the event.
If you place a bet using a FreeBet.
Can I use CASH OUT in the Esports section?
Just like with regular sports bets, you can also cash out bets on esports events. If the feature is available, you will see it on the Esports page in the "My Bets" section: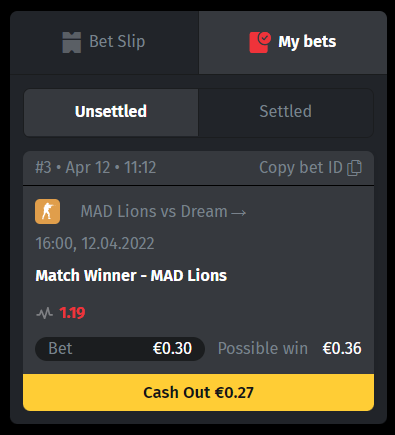 By clicking on the "Cash Out" button, the offered amount will be automatically transferred to your OlyBet balance.
1
1
Was this article helpful?
1 out of 1 found this helpful